Monday was a big day in the life of one local golf professional.  Not only did Christopher Dickenson celebrate his 25th birthday but he was also named the Head Coach of the Canadian Junior Golf Association.
Dickenson, a lifelong Stratford resident, has been a teaching professional with the Stratford Country Club for five years after graduating from Niagara College with a diploma in Professional Golf Management.
Four years ago Dickenson began coaching Trent Zordrager and as he says, "Trent and I started out on this journey of trying to get him playing a lot more tournaments. There's a tour he plays quite regularly called the Canadian Junior Golf Association and since Trent started playing a lot on their tours we had a lot of other juniors that I work with, play on their tours as well.  So last year Trent managed to play his way onto their national team and this year we've had another student of mine, Riley Matheson, play on their national team as well."
The Head Coach position came Dickenson's way through the success of his students, "Via the amount of students that we have playing their (CJGA) events and how well they are doing they reached out to me through them."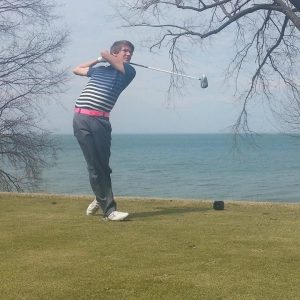 Dickenson's role at the Stratford Country Club comes with some big responsibilities as he is in charge of the competitive junior team and the planning, organization, and execution of the junior camps along with the training of higher development players.
Dickenson says this is a huge stepping stone in his career as a golf coach, "It's another avenue to expand myself and try and grow as a teaching professional.  I think people forget that as a teacher I am always trying to learn as well, I'm always trying to get better at what I do. Having this exposure to 12 kids who are nationally ranked is a great opportunity for me to learn from them."
Dickenson will be jumping right in at TPC Toronto on Monday where they are hosting the first leg of the training camp.  He says he is looking forward to getting to know the team, "I have to execute an eight-hour-long clinic for all the kids and then they have an event starting at the end of next week called the North America Cup where they play a team from the United States and then we go from there and see where it takes us."
Dickenson will remain as Head Coach for the next year, but it won't affect his job at the Country Club, "I have to be two places at once but with technology it's kind of nice because we can use this app called Huddle and the kids all send me videos and I send them videos back on what I think they should be working on and drills that they can do."
Dickenson says he is excited about his students at the Stratford Country Club as Zordrager gets ready to leave for school on a golf scholarship in Oklahoma in August and other students continue to look for scholarships, "We are just going to continue to try to get everybody better and I am going to try to continue to get better myself and just keep pushing forward and take it day by day."