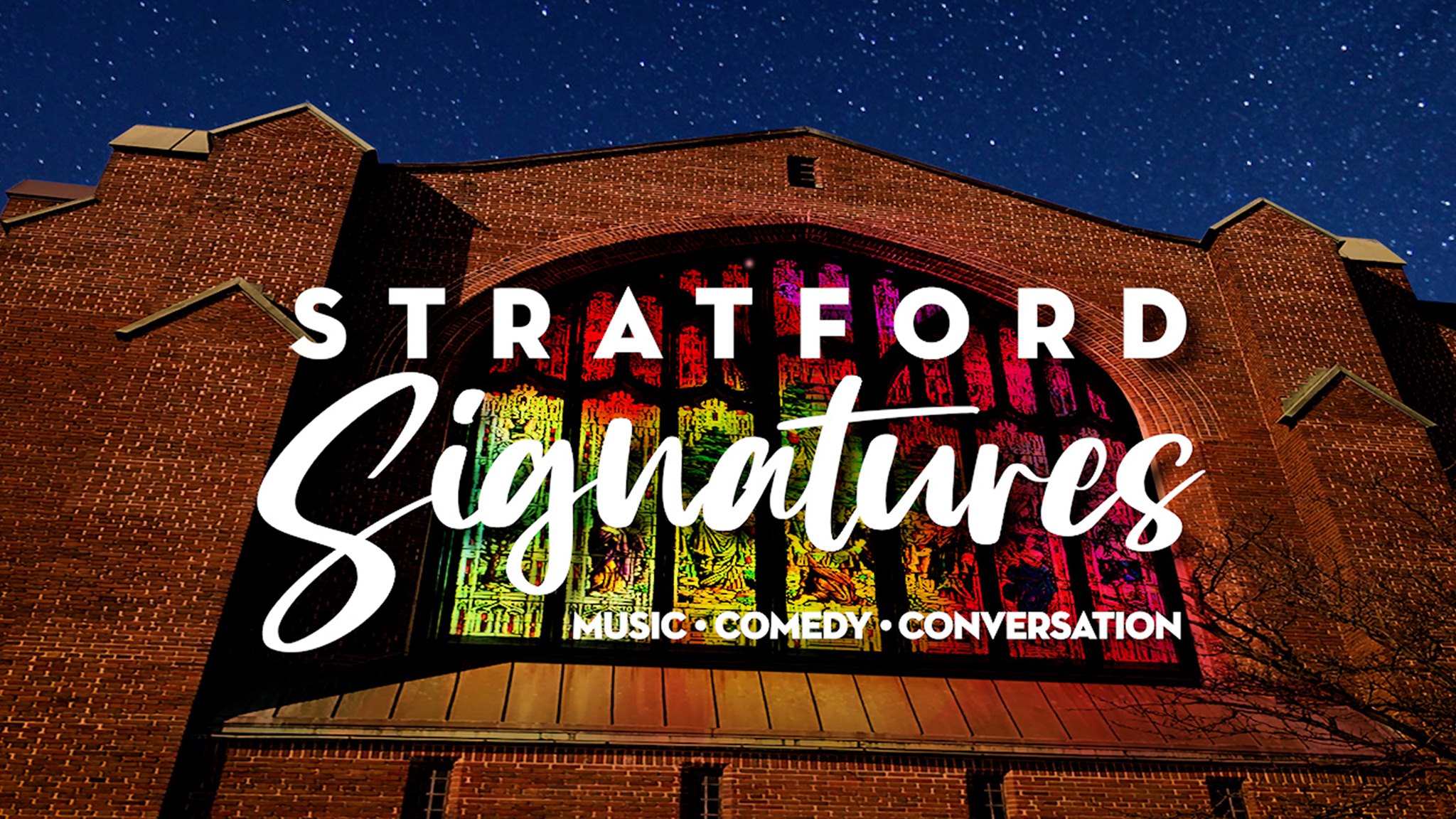 Stratford Signatures
"Something that sets apart or identifies, making a mark on a space and time." A signature. That's what artists who live and work in Stratford do. They make their marks on the Canadian artistic landscape.
STRATFORD SIGNATURES is a full-length video on demand concert that features FIVE Stratford artists doing what they do best. LOREENA McKENNITT, MARCUS NANCE, and ANIKA and BRITTA JOHNSON plus hosts and special guests COLIN MOCHRIE and DEBRA McGRATH will showcase their unique talents on stage. A special bonus is interviews with Stratford's own GRAHAM ABBEY. This incredible set of artists is shot in 4K high definition by Stratford's Ballinran Productions in the cozy comfort of Knox Presbyterian Church.
Special Guests Colin Mochrie and Debra McGrath are among Canada's most beloved comedic actors and are no strangers to Stratford. Colin is one of Canada's leading improvisational actors and has played here three times with partner Brad Sherwood. He came to international prominence for his memorable appearances on both the British and American versions of the top-rated improv series Whose Line Is It, Anyway?" He is a 25-year acting veteran and an alumnus of Toronto's famous Second City and the author of Not Quite the Classics, a book of stories that takes the first and last lines from familiar classics and re-imagines everything in between.
Debra also honed her comedy skills at Second City Toronto. Her work has included the town's mayor on Little Mosque on the Prairie, Single White Spenny, and The Ron James Show. McGrath also created, co-wrote, produced and starred in CBC's Getting Along Famously with Mochrie. Together, they have played a husband and wife in Love Letters, Sunshine Sketches of a Little Town, and Living in my Car.
Loreena McKennitt is a Canadian composer, harpist, accordionist, and pianist who writes, records and performs world music with Celtic and Middle Eastern themes. McKennitt is known for her refined and clear soprano vocals. She has sold more than 14 million records worldwide. Since moving to Stratford in 1981, Ms. McKennitt has continued to be a passionate proponent of human rights, families and the environment.
Marcus Nance has performed for eight seasons at the Stratford Festival and is equally at home in theatre, opera, concert, and cabaret. The New York Times described him as "a thrillingly powerful bass-baritone" while Backstage New York says he "has a bass that flows like melted butter". Accompanied by the renowned Franklin Brasz, Mr. Nance's ability to create stories within a phrase is legendary.
Anika and Britta Johnson were raised in Stratford in a highly artistic environment. Individually and as a team, these sisters write and perform immersive musicals. "The words sit perfectly on the music, and … the music is also fine, theatrical and contemporary all at once", said Robert Cushman in The National Post. Viewers are in for a treat!
Graham Abbey, who also grew up in Stratford, started his artistic career as a child actor on the Stratford Festival stage. He rejoined the Festival in 1997 and has played leading, supporting, and ensemble roles, as well as adapting and writing. Equally at home on video, Mr. Abbey is also the Artistic Director of Groundling Theatre Company and the Festival Players of Prince Edward County.
What can viewers of Stratford Signatures expect? Expect to be entertained. Expect to be moved. Expect laughter and wit. Expect to understand more about what makes Stratford such a special place in the Canadian arts and culture ecology.
The Details
 Stratford Signatures is a video on demand production which can be accessed through the ticket portal at stageview.ca.
 Tickets are $35 and are on sale starting on May 14, 2021
 The production premieres on Saturday, June 19, and closes on Sunday, June 27
— ooOoo —
Stratford Signatures is a pilot program organized by the Stratford Arts and Culture Collective, which is working toward creating the Stratford Arts and Culture Centre. More information about the Collective and the Centre can be found at 
stratfordacc.com
 and 
knoxnextstage.com.