Stratford Police Service is searching for a van that hit a pedestrian just after 11:00 this morning in the Walmart parking lot.
Police describe the van as a dirty white Volkswagen mini-van with tinted windows and a black roof rack.  They believe the licence plate has the letters C-E-O.
The van left the Walmart parking lot on Ontario Street and went north on C.H. Meier Boulevard.  The pedestrian is in hospital with life-threatening injuries.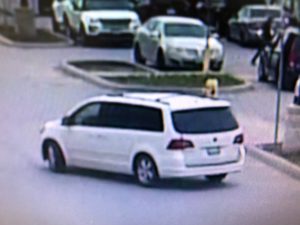 Police are requesting assistance from the public for any further information about the van or its driver and are appealing to the driver of the van to please come forward.
Police are also asking that if anyone had a vehicle parked within the Walmart parking lot at that time that was equipped with a dash cam to please check the camera to see if this incident or the van involved was captured.
If you see this van call the Stratford police at 519-271-4143.