Police say a driver has been charged after a collision between a Stratford Transit Bus and a car.
The collision happened Thursday evening at the corner of Brunswick Street and Nile Street with the driver of the car charged with failing to yield to traffic.
Police tell MyStratfordNow.com that the driver of the car suffered minor injuries in the collision.
It's not clear how many people were on the bus or in the car at the time of the collision.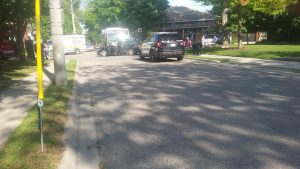 Driver charged after collision involving Stratford Transit bus. (Photo courtesy of Jason Brunault).