The University of Alberta is offering a FREE 12-module course on indigenous history and contemporary issues.
Ways that you can support Indigenous Communities and Peoples try consider donating to local charities or non-profit organizations.
Here are a few places you can donate to below: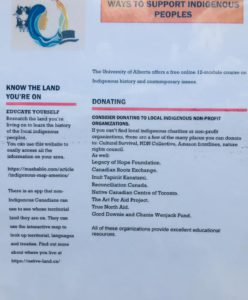 Use this website, Nativeland.ca to use the interactive map to learn about territorial, languages and treaties.
On June 21, we commemorate National Indigenous Peoples Day to recognize the history, heritage and diversity of First Nations, Inuit and Métis peoples in Canada. Get more information on National Indigenous Peoples Day and start your learning journey.