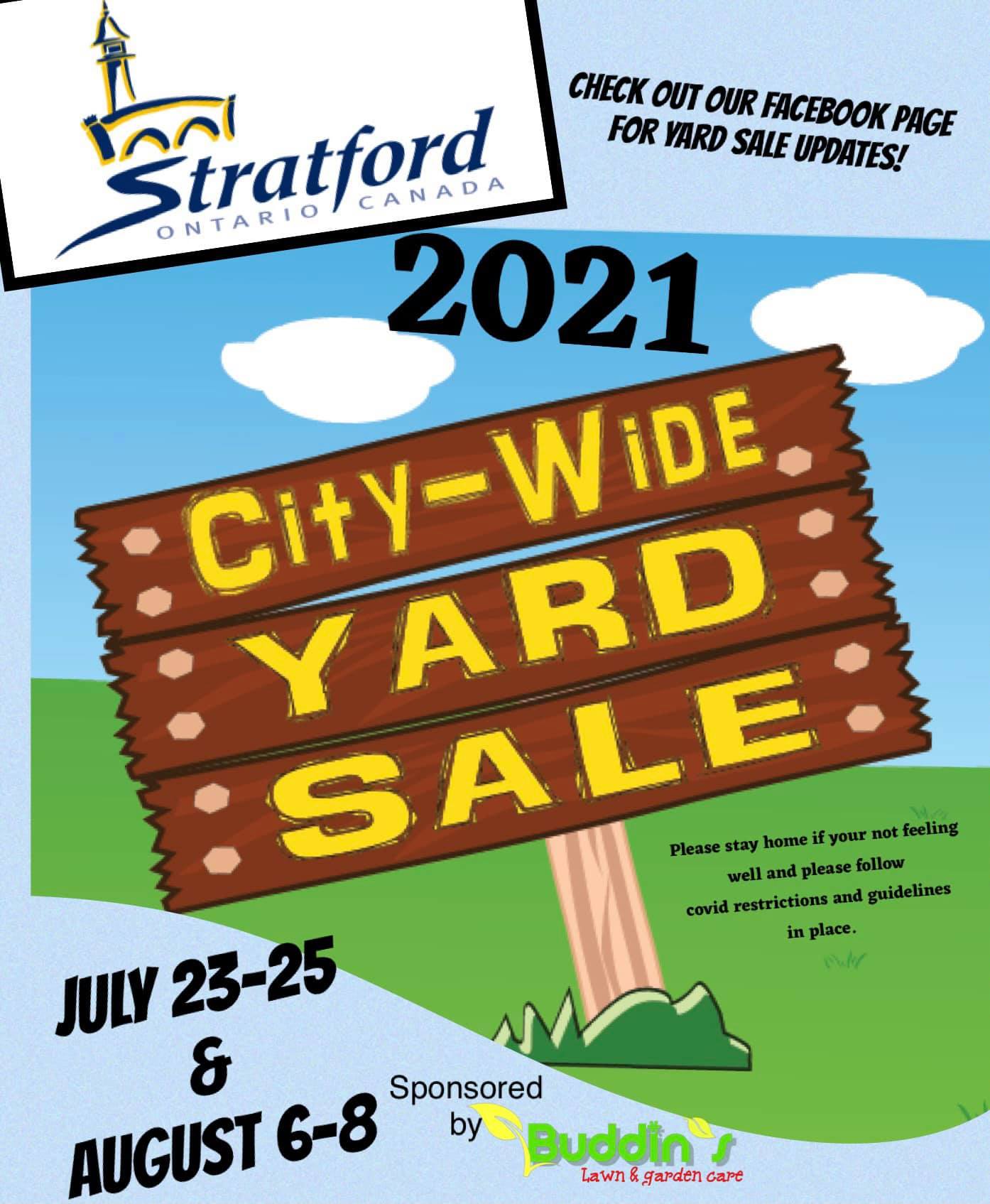 Stratford City Yard Sale
We missed out last year so this year we are making up for it! Two city wide yard sales, anyone can join in on the fun whether your a seller or a buyer! Let's make this the best one yet! Ask your neighbour's to have a neighbourhood sale! We all need to come back together again and build our community back up. You never know who is struggling so let's support each other and make this years City Wide Yard Sale the best one yet!
If your having a sale on these dates (there will be a separate event page for part 2- don't forget to join that event too) please leave your address and highlights of your sale HERE. People can keep an eye on here and figure out where to go! Please remember to be safe and respect the covid rules in place. Thanks Everyone!
Yard sales
49 Dawson Street, Stratford
Sat. July 24. Starting @ 8 am
Tools, small furniture, housewares
83 East Gore st… Friday 4-8 Sat 8-1 Sunday 8-1… LOTS OF TEEN CLOTHES BOYS AND GIRLS, toys, skates, gardening tools, books, home decor, the list is endless!
.
239 Nile st. 24th and 25th
Live edge coffee and end tables, cutting boards and wood home decor
.
25 East Gore Friday 7-9pm Saturday 8-1
Kids bike, woman and teen clothes, woman's shoes, furniture and old records
.
244 Nile st. Saturday only
Higher end clothing brands, brand new doc Martain safety shoes, house hold items
.
45 Brant st. Saturday 8am
Variety of micro greens!
.
190 walsh cres
.
Saturday from 7-11am.
2 fish aquariums and 1 reptile aquarium. Bike rack for car. 10 speed bike needs clean up. Kids toys and clothes and other great items!!!!!
.
19 Warwick rd.
Sat 8-2
Toys, bikes, tools, clothes, furniture, and lots more
.
176 Water Street
Friday 5-8 and Saturday 8-2
Antiques, kitchen & household items & decor, jewelry (costume and otherwise), some reno supplies (tile etc), luggage, etc
.
35 Wyatt st. Rain barrel, shutters, patio chair cushions set if 4 red and various other items Sat 8-3p
.
.
231 Queen St., Stratford
July 24 – 8:00
to 2:00
Eclectic mix of items from steam cleaners to art & collectibles, shelving, bikes,
Christmas
in July and much more.