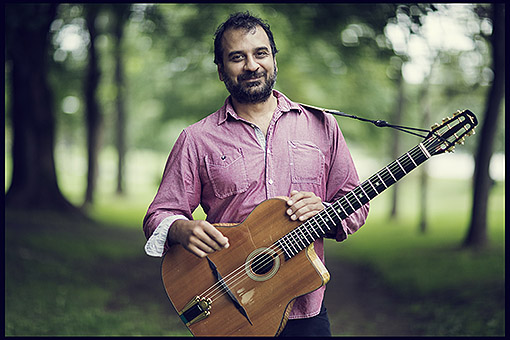 Floating Barge: Duane Andrews
Duane Andrews' music is the product of a great ear, an adventurous spirit and a love of music that is beyond category. Uniting what would seem to be impossible – traditional Newfoundland music with the swing jazz of the legendary Django Reinhardt, Andrews makes it not just work – he makes it soar. The Juno award winning producer, composer, guitarist and globetrotting performer's latest album, Conception Bay, is the best evidence yet of his truly unique musical vision and is the sound of him, literally, bringing it all back home.
The Music Barge will launch from the Boathouse located at 30 York Street Lower Level. The Barge will slowly cruise along the south side of the Avon River towards the Festival Theatre, turning around in front of Lower Queen's Park and returning on the north side of the river for a performance time of one hour. We invite you to walk or bike around the river to follow the music or bring your own lawn chair to Tom Patterson Island or along the banks of the Avon. There are numerous picnic tables set up in our parks system and we encourage you to support our local restaurants by purchasing a take-out picnic to add to this experience.